Aprilaire 1750A Ductable Dehumidifier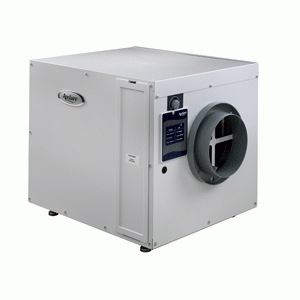 Click to Zoom
Questions? Call Toll Free (866) 764-9900
CLICK HERE TO SEE ALL PARTS FOR THE 1750 DEHUMIDIFIER
| | |
| --- | --- |
| | Free Indoor Digital Hygrothermometer included with each 1750A Dehumidifier |
The Model 1750A replaces the model 1700 dehumidifier and 1750 dehumidifier. "A" Model signifies new R410A refrigerant.
New features on the Aprilaire 1750A Dehumidifier include:
Updated housing color
New LED status and service indicator tells you when the unit is running normally, sampling, defrosting and when it is in need of service
Excess humidity in the air can cause homes to be smelly, musty and noticeably damp. Nobody wants to go there, play there, be there. Excess humidity can damage basement furniture and furnishings, cause wood to swell and fabric to rot. Stored items grow mildew and wall paneling peels. High basement humidity can lead to health threatening conditions too. Any basement with relative humidity regularly above 60% can become the perfect breeding ground for a variety of pathogens like mold, mildew and fungi.
Common portable dehumidifiers are a weak answer
Portable dehumidifiers don't perform well in cooler basement environments and you typically need more than one to treat your entire home. Click here to learn more about whole house vs. portable dehumidifiers.
The Aprilaire 1750A Is The Solution
This Aprilaire Central Dehumidifier is designed specifically to control humidity inside the whole home as well as in crawlspaces and attics. Built-in duct collars alow for easy connection to the central HVAC system. This dehumidifier automatically and continually measures the true measure of moisture level, dew point. The unit operates to control humidity to the dryness set point that is either set on the unit or on the optional living space control. A built-in, automatic air cycling feature can be utilized to activate the HVAC fan to cycle the air throughout the whole home for proper balance for comfort. This dehumidifier also has a patented, built-in ventilation feature, which will allow fresh air to be brought into the home from the outside. In utilizing this feature, the dehumidifier will dehumidify the incoming air, if needed (based on dew point / dryness set point), as the outside air is first entering the home. The built-in ventilation feature is designed to be able to meet ASHRAE 62.2 Standard for Ventilation.
The Best Choice for healthy, comfortable air is the Model 1750A Whole House Dehumidifier installed in your new or existing heating and cooling system. The benefits and results speak for themselves:
Provides three times the moisture removing capacity of leading portable dehumidifiers-up to 90 pints or 11.25 gallons per day
Has no tank to empty - unit can be attached to home's water drainage system with 1" PVC pipe. Can also be gravity drained into floor drain or sump pit. Can use optional condensate pump to pump water up to a sink.
Automatically senses moisture levels and maintains optimum humidity levels in your home, never too much, or too little and running only when needed
Switches automatically between whole-house dehumidification when central air-conditioning system is running, and localized dehumidification when your air-conditioning isn't running
Convertible from whole-home to localized application lets you solve excess moisture issues where you need it most from crawl spaces to attics and basements
Can be operated manually, allowing you to monitor and control moisture levels in a specific location-such as your basement or master bedroom (optional Living Space Control is required)
Easy to use - level the feet, and plug it in, and set the humidity level!
Powerful, 275 CFM Fan
Includes aluminum MERV 8 filter for air intake - can be washed or replaced annually or semi-annually depending on conditions
On-board LED panel provides easily understood feedback / validation on the unit's operation and performance. The LED's tell you when the unit is running, sampling, and when there is a problem with the unit.
Includes PVC condensate trap - must be used to prevent backflow of condensate.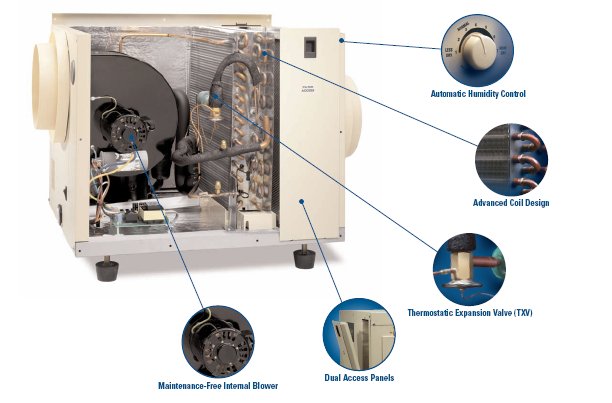 Specifications:
Capacity: 90 pint per day @ 80 degrees Farenheight & 60% Rh
Voltage: 115/1/60 (8' grounded power cord)
Amp Draw: 9 amps
Pints/KWH: 3.47
Dimensions: 20"W x 24"L x 21.5"H
Weight: 100lbs
Airflow: 275CFM @ 0.6 in. of w.c. external static pressure
Filter: 1" washable or replaceable, MERV 8
Controls: Built-in automatic control, or Model 70 Space Control
Cabinet Insulation: Entire interior surface is sealed with 1" foil-faced EPS (expanded polystyrene) insulation
Inlet Temperrature Range: 40 Degrees Farenheit - 105 Degrees Farenheit
Inlet Humidity Range: 30% RH - 100% RH
Ambient Operating Temperature Range: 40 Degrees Fareneit - 150 Degrees Farenheit
Ambient Operating Humidity Range: 0% RH - 100% RH
Approximate Discharge Air Temperature: 103 Degrees Farenheit @ 80 Degrees Farenheit & 60% RH
Approximate Discharge Air Relative Humidity: 25% RH @ 80 Degrees Farenheit & 60% RH
Refrigerant Type: R-410A
Sound Level: 48 dBA Ducted, 54 dBA Non-ducted
Duct Size: 8" dia.
Drain Size 0.75" dia
5 Year Factory Warranty
***Note: Our shipping arrangement for the Santa Fe includes palletizing and shipping via an LTL freight carrier. There is a very high risk of damage when the unit is shipped via a small package carrier such as UPS. This shipping offer includes "to the curb" delivery. Freight carrier will call to set up a delivery window and someone must be present to sign for the delivery.
Click here for more shipping details on the AprilAire dehumidifier.
---
National Trade Supply, LLC is one of the largest Aprilaire Dealers in the United States. We stock all of the Aprilaire products and accessories in our own facility providing you with a quicker turnaround time and instant tracking information on your order. We have installed Apri