4-Function 20 Amp Switch Combo for Heater/Fan/Light/Nightlight, White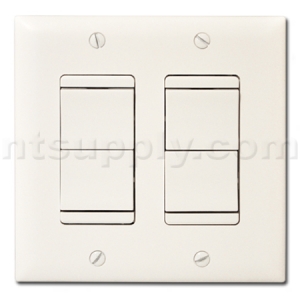 Click to Zoom
Click here to see snap-in function ID modules
4-Function 20 Amp Switch Combo for Heater/Fan/Light/Nightlight, White

Suitable for operation of Panasonic FV-11VHL2 and Broan/NuTone QTX110HL

Manufacturers are recommending a dedicated, 20 Amp circuit for the fans with heaters. These switches are rated for 20 Amp service and allows separate switching of heater, fan, light, nitelight.
Includes 2, PS811-20W two function switches
Includes 1 double-gang decorator wallplate - white

Switch Specifications:
2 Single Pole Switches (x2) rated up to 277 VAC - 15A Each, 20A per circuit.