Santa Fe Classic Basement & Whole House Dehumidifier (4029700)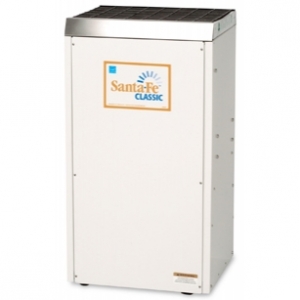 Click to Zoom
Questions? Call Toll Free (866) 764-9900



PLEASE CLICK HERE FOR IMPORTANT DEHUMIDIFIER DELIVERY INFORMATION!

This unit replaces part # 4021400 (new model has new R410A refrigerant and new warranty).

The Santa Fe Classic is a high capacity, energy efficient dehumidifier. The Santa Fe Classic is Energy Star rated and removes more water per unit of electricity than any other qualified dehumidifier. It can operate as a 'stand alone' dehumidifier; simply plug it in, route the condensate hose to a drain, and set the dehumidistat. It is ideal for basement and crawlspace applications since it operates effectively in temperatures as low as 53°F. Normally, a Santa Fe unit will maintain relative humidity levels below 50% in areas up to 3,000 square feet. An optional duct kit allows the Santa Fe Classic to be located in a mechanical room and deliver the dried air to another area via air ducts. Other available options include a noise reduction kit, a remote dehumidistat and a condensate pump kit.
The Santa Fe is a high efficiency residential dehumidifier that utilizes refrigeration to cool the incoming air stream below its dew point as it passes through the dehumidification (evaporator) coil. This cooling results in the removal of moisture (latent heat) and reduction of the temperature (sensible heat). The cooled and dried air is used to pre-cool the incoming air stream resulting in up to a 200 percent increase in overall efficiency. After the pre-cooling stage the processed air is reheated by passing through the condenser coil. The latent heat removed by the evaporator coil is returned to the air stream at this stage as sensible heat, resulting in an overall increase in temperature from the incoming air.
The Santa Fe is controlled by a manual dial-type dehumidistat with positive "ON" and "OFF" settings and a variable setting range. Note: Relative humidity level that can be achieved depends on temperature in space.

Features:
The Santa Fe has a built-in defrost system that is designed for operation down to 56°F.
The unit contains a blower switch that permits continuous blower operation independent of dehumidification.
The Santa Fe is portable and provided with four casters.
The unit contains a eight foot vinyl, gravity drain hose.
The wiring of the unit is through a factory installed 10 foot power cord; 115 volt with ground.
Comes with installed 16x20x2 pleated filter and washable pre-filter
Specifications:
Part Number: 4029700
Blower: 275 CFM @ 0.0" WG
Power: 720 watts @ 80°F and 60% RH
Supply Voltage: 115 volt - 1 phase - 60 Hz
Current Draw: 6.4 Amps
Operating Temp: 56°F Min., 95°F Max.
Minimum Performance at 80°F and 60% RH

Water Removal: 110 Pints/Day
Efficiency: 6.4 Pints/kWh

Air Filter: MERV-11 (standard 65% efficient, ASHRAE dust spot test) 16" X 20" X 2" Nominal Size
Power Cord: 10', 110-120V, Ground
Drain Hose: 9/16" ID X 8' Direct Gravity Drain Hose
Unit Dimensions: 20" W X 36" H X 17" D
Shipping Dimensions: 24" W X 43"H X 20" D
Dimensions With Optional Duct Kit: 23" W X 42-1/2" H X 17" D
Unit Weight: 110 lbs
Shipping Weight: 117 lbs
*Made in the U.S.A.**
***Note: Our shipping arrangement for the Santa Fe includes palletizing and shipping via an LTL freight carrier. There is a very high risk of damage when the unit is shipped via a small package carrier such as UPS. This shipping offer includes "to the curb" delivery. Freight carrier will call to set up a delivery window and someone must be present to sign for the delivery.
Click here for more shipping details on the Santa Fe dehumidifier.
---
National Trade Supply, LLC is one of the largest Santa Fe Dealers in the United States. We stock the entire Santa Fe family of products and accessories in our own facility providing you with a quicker turnaround time and instant tracking information on your order. We have installed hundreds of units in all types of applications and can offer expert advice on how to properly install yours. We are also an authorized service center for Santa Fe products and can offer warranty service and replacement parts.

If you are looking for the best possible dehumidifier and a company who can stand behind it, Santa Fe and National Trade Supply is the clear choice.
Merchant Services
DehumidifierExperts.com Price:
$1,766.67
Availability: In Stock
Standard: 2-7 Business Days: Free!
Shipping fees listed are for a quantity of (1)
Effective (126)
Energy efficient (73)
Quiet (52)
Compact (34)
Lightweight (23)
Pricey / poor value (4)
Works too slowly (4)
A little loud (3)
Noisy (3)
Dank basement (119)
Summer humidity (64)
Drying hand laundry (3)
Library (3)
Multiple rooms / whole house (3)
Reviewer Profile:
Homeowner (135), Avid do-it-yourselfer (26), Professional (21)

Primary use:
Personal (136), Business (6)
Reviewed by 147 customers
Compact
Effective
Energy Efficient
Lightweight
Quiet
Comments about Thermastor Santa Fe Classic Basement & Whole House Dehumidifier (4029700):
Light weight Like the mobility
Comments about Thermastor Santa Fe Classic Basement & Whole House Dehumidifier (4029700):
We placed the dehumidifier in out 3300 sq ft lower level set on automatic. Comes on as needed and is relatively quiet. It is rather large so must have adequate room to put it.
Effective
Energy Efficient
Made In The Usa
Replaceable Main Filter
Washable Pre-filter
Comments about Thermastor Santa Fe Classic Basement & Whole House Dehumidifier (4029700):
Our big box store portable dehumidifier (2007 vintage) stopped working, so we decided to upgrade to a more efficient unit. The Santa Fe Classic met and exceeded our requirements (one of which was being made in America).

It has completely eliminated the lingering damp odor that the (approximately) 900sq. ft. basement has had for years. We were initially concerned that it would be a noisy unit, because of the high CFM rating. Since it's in the basement though, competing with a washer, dryer, and a furnace, its operating sound is not objectionable. If we used our basement as a living or entertaining space, I would consider the optional muffler.
Compact
Effective
Energy Efficient
Lightweight
Comments about Thermastor Santa Fe Classic Basement & Whole House Dehumidifier (4029700):
Used up three big box store dehumidifiers in less than four years. Basement has 1600 sq ft of concrete floor and 600 sq ft of raw dirt. Santa Fe unit has held the humidity at 40-45% all summer. We have been able raised the A/C thermostat upstairs to 74 from 71 degrees and it still feels chilly at times. Box store units never had an effect on the upstairs temperature. Fan on the unit is a bit noisy, but moving the air is what makes it effective.
Dank Basement
Summer Humidity
Comments about Thermastor Santa Fe Classic Basement & Whole House Dehumidifier (4029700):
We recently purchased a home with a 2,100sf finished basement. It's our first home to have a basement. During the purchase, we received a professional inspection and the home was found to be mold free. As the summer rolled in, we began to notice a dampness in the basement. While we weren't having mold issues, having lived in Florida, we knew it would be big problem if we didn't find out the source of the water.

NOTE, regardless of how big a dehumidifier is or how well it works, it is NOT the solution to your problems. It is however a critical part of the ongoing process of keeping a dry environment.

FIND THE WATER! Our home is on the side of a mountain and our whole basement is below grade. We found that the gutters along the rear (uphill side) of the home were dirty and overflowing. They also were not draining away from center of the rear yard and water was pooling along the back wall.

STOP THE WATER! The fix was simple enough. First we put in a french drain to divert any normal rain from pooling in the back and run it around to the side yards where we let gravity do it's job. Next we fixed the gutters and integrated them into the french drain. Now all the water that hits the house or ground uphill is diverted away from the home. We don't believe we have any underground water source because the dampness came and went with the rains.

REMOVE THE WATER IN THE AIR! Now the fun part. As soon as the Santa Fe Classic arrived we rolled it into the middle of the basement and turned it on full blast. We put a four (4) gallon container to catch the water. For the first five days we had to empty it twice a day. By the end of the week we were down half that. As we entered the 2nd week, we turned it down to the hi end of the normal range. We still were pulling about three gallons a day. About the third week we were down to a gallon and a half a day. We adjusted the dial to the low end of normal and the system was keeping up without issues.

MAKE IT PERMANENT! After the initial dry out we have permanently installed the unit using the optional duct kit. We also purchased the return and exhaust grills. It all was very easy for your average DIY'er. The system also pulls air from the main floor return duct and now the whole home is feeling the effects. We were lucky to be able to tap the existing condensation pump used by the HVAC unit. However these units are relatively inexpensive and now we don't have to empty any buckets. We might make it completely hands free by installing a dehumidistat this next rainy season. But for now, we just dial it up or down a notch based on how our hygrometer reads once or twice a week.

Very happy and VERY VERY dry!
Effective
Energy Efficient
Comments about Thermastor Santa Fe Classic Basement & Whole House Dehumidifier (4029700):
This product is used to preserve music parts and scores in Professional Library as well as prevent excess moisture in area with computers.
Comments about Thermastor Santa Fe Classic Basement & Whole House Dehumidifier (4029700):
Four years old; has failed for the third time.
Worked beautifully when new. After two years, had to go back to factory for warranty replacement of evaporator. One year later, back again for another evaporator (both at their expense under the three-year warranty, which has now been reduced to one year). Now (one year later) it runs constantly and extracts about 4 pints a day. ThermaStor told me I have a "corrosive environment" in my basement, but strangely enough, nothing else corrodes down there. I give it one star; that's five stars for design and engineering, and minus four for quality and durability. Maybe this is a lemon, but I suggest you pay attention to reviews from folks who have had theirs more than a few months.
Effective
Energy Efficient
Quiet
Comments about Thermastor Santa Fe Classic Basement & Whole House Dehumidifier (4029700):
Humidity in basement before new humidifier was at 76, After 3 weeks it is at 46. Within the first day humidify decreased to 60.
Comments about Thermastor Santa Fe Classic Basement & Whole House Dehumidifier (4029700):
We just had our damp, crumbly basement waterproofed. Our contractor recommended the Santa Fe Classic as the best product on the market. I immediately ordered from dehumidifier experts and it was delivered to our door in a matter of days! It works like a dream, the air smells fresher, and every service person who has been in our basement since has all said, "that's the BEST dehumidifier I've ever seen!" Thank you for a great product and amazing service!
Dank Basement
Summer Humidity
Comments about Thermastor Santa Fe Classic Basement & Whole House Dehumidifier (4029700):
DONT WASTE YOUR MONEY ON OTHERS,I DID.

THIS IS MY SECOND ONE FOR TWO DIFF. HOMES 1800SQ FT BASEMENT AND 2000SQ FT BASEMENT ,WORKS AWESOME EVEN FOR SMELL.