Humidity AlertT Thermometer/ Hygrometer / Clock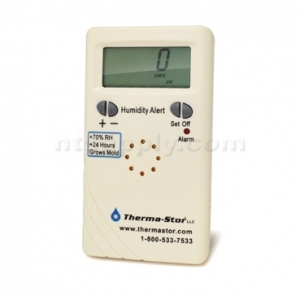 Click to Zoom
Identify your high humidity issues with the Humidity AlertT from Therma-Stor.T The Humidity AlertT was designed to discriminate between occasional periods of high humidity and the prolonged periods that create a risk of unhealthy biological activity. It's a simple, inexpensive device that monitors temperature and relative humidity conditions and records data that is known to contribute to wood rot, mold growth, musty odors and increased pest activity.

How Humidity AlertT works:
Humidity AlertT sounds an alarm if relative humidity exceeds your humidity setpoint (default 60%) for 12 continous hours. Alarm will sound for 5 seconds and repeat every 30 minute until you shut off the alarm or the battery dies. Humidity AlertT will tally the number of hours of RH over your desired setpoint.
Displays (on a rotating basis)
1. Current Relative Humidity
2. High Limit Relative Humidity (can be set from 50 - 80%)
2. Days of high humidity (from 0-199)
3. Accumulating hours of high humidity from 1-12
4. Current Temperature in F or C

Recommended Settings:
Manufacturer recommends alarming for +70% RH and 12 hours to avoid nuisance alarms. If concerned about dust mite in carpeting on concrete - 60% RH and 12 hours is recommended.

Unit dimensions - 2-1/2" W X 4-1/8" H X 3/4"
Uses (2) "AA" Alkaline Batteries (not included)
Merchant Services
DehumidifierExperts.com Price:
$33.42
Availability: In Stock
Reviewer Profile:
Casual user (3), Power user (3)
So far so good. It dutifully sounded its alarm when the humidity in our crawl space got to 70% during a particularly humid day.
Easy to Install
Easy to Use
Lots of Features
Reliable
We use this product in the basement waterproofing industry. We go into a house and set it somewhere to determine what their humidity levels are. This will determine whether or not we try to sell them a dehumidifier or not.
Accurate
Easy to Use
Good Value
Lots of Features
I bought two of them when I got my Santa Fe Compact dehumidifier to monitor the humidity and find the ideal dialing for my range. It is an excellent unit and at [$] it is a bargain.
the unit is a lot smaller than I thought it was,but it is ok
Primary use:
Personal
Was this a gift?:
No
Durable
Easy To Configure
Easy To Use
Reliable Performance
Easy to read instructions - nice product
Easy To Configure
Easy To Use
great product very accurate reads same humididty as the dehumidifier i placed this in a basement at the farthest point away from the dehumidifier to see how good of a job it was doing. another neat feature is the alert which you can set at any humididty to alert you when its getting to humid. i belive this is the only model that has this alert option great product