HI-E Dry Vehere Dehumidifier (4030050)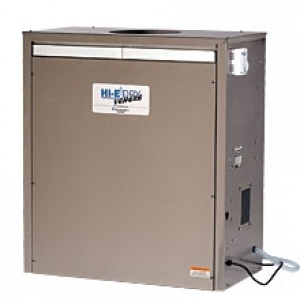 Click to Zoom
Questions? Call Toll Free (866) 764-9900

The HI-E DRY Vehere Pool & Spa Humidity Controller featuring FOCUSTM Technology is the industries most efficient, durable and economic product for controlling moisture related problems associated with indoor pools, whirlpools, hot tubs, and therapy/lap pools. The Vehere utilizes technology, which dramatically improves performance, product reliability and comfort. The Vehere's innovative heat transfer technology offers customers:

HI-Efficiency - A dehumidifier resulting in a compact refrigeration system requiring less electric consumption. This ensures the use of a standard 20 Amp electrical outlet and LOW OPERATING COSTS!

HI-Capacity - Vehere's passive heat transfer process allows the removal of over 92 pounds of water per day! (80°F, 60% RH). That's two- three times more water removal per kilowatt-hour of electricity than conventional dehumidifiers.

Compact - The Vehere's stainless steel enclosure is corrosion resistant with a built-in fan for low noise operation. The Vehere features a cabinet mounted or remotely located control, easy-roll casters, and the highest dehumidification capacity available in it's class.

Reliability - Our compact design uses less refrigerant, which reduces our cost and improves reliability. The Vehere's HI-Efficiency operation can save thousands of dollars annually.

Comfort - The Vehere provides airflows up to 540 CFM (cubic feet/minute) of Dry Air. This airflow helps reduce foggy windows, mold, mildew and condensate... all reduced to increase indoor occupant comfort!
No more foggy windows or condensation on walls in the poolroom with the HI-E DRY Vehere Humidity Control System. Preserve construction integrity and curb mold growth.
Capacities:
The Vehere is designed to control humidity for indoor pool (spa, hot tub) areas. It consists of a controller, dehumidifying cooling system, filter, fan and delivers the following dehumidification capacities:
Air Temp/RH --- Pints / KWH
80°F/80% RH --- 238 / 37.1
82°F/60% RH* --- 191 / 35.3
80°F/60% RH --- 185 / 34.3
60°F/80% RH --- 160 / 27.5
*ASHRAE Recommended Conditions
Specifications:
Electrical: 110-120 VAC, 12.0 Amps (7' power cord included)
Capacity: 185 pints/day @ 80°F, 60% RH
Air Flow: 540 CFM without external ducting 510 CFM @ .15 IWG external static
Included Duct Connections: 12" inlet & outlet
Warranty: 1 + 4 Year Factory
Dimensions:
Width: 36.5 inches
Height: 40.0 inches
Depth: 19.0 inches
Weight: 180 lbs
**Made in the U.S.A.**
---
***Note: Our shipping arrangement for the Santa Fe includes palletizing and shipping via an LTL freight carrier. There is a very high risk of damage when the unit is shipped via a small package carrier such as UPS. Typically, we ship via Fedex Freight service. This shipping offer includes "to the curb" delivery.
Click here for more shipping details on the Santa Fe dehumidifier.
National Trade Supply is one of the largest Thermastor Dealers in the United States. We stock the entire Santa Fe family of products and accessories in our own facility providing you with a quicker turnaround time and instant tracking information on your order. We have installed hundreds of units in all types of applications and can offer expert advice on how to properly install yours. We are also an authorized service center for Thermastor products and can offer warranty service and replacement parts.

If you are looking for the best possible dehumidifier and a company who can stand behind it, Thermastor and National Trade Supply is the clear choice.
Merchant Services
DehumidifierExperts.com Price:
$4,215.94
Availability: In Stock
Standard: 2-7 Business Days: Free!
Shipping fees listed are for a quantity of (1)