Santa Fe Force Basement & Whole House Dehumidifier (4034160)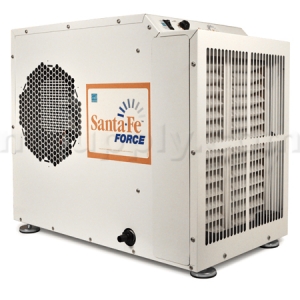 Click to Zoom
Questions? Call Toll Free (866) 764-9900
PLEASE CLICK HERE FOR IMPORTANT DEHUMIDIFIER DELIVERY INFORMATION!
The super quiet Santa Fe Force Dehumidifier removes up to 120 pints of water per day and is only 14-1/2" wide - so it can be lowered between floor joists in the tightest spaces. It effectively dehumidifies up to 2,900 square feet and is the ideal free-standing dehumidifier for large spaces with low headroom. The unit is engineered for extreme quiet operation and is optimized for low heat load. Optional condensate pump and ducting kits provide the installation flexibility necessary for the most challenging applications.

FEATURES:
High Efficiency - Exceeds EnergyStar efficiency requirements
Auto-Restart - The simple analog control means the use will pick up where it left off after a power outage
Superior Air Filtration - MERV-8 filtration is standard on the Santa Fe Force. This superior level of air filtration also keeps the unit working at peak efficiency and out performs other conventional dehumidifiers.
Large Capacity - The high capacity provides 120 pints per day of water removal at standard rating conditions. Large-sized basements and crawlspaces (up to 2900 sq. ft.) are no problem
for the Santa Fe Force.
Optional Equipment - Ducting kits and condensate pumps are available for use with the Santa Fe Force. These optional kits provide the ultimate in flexibility for your specific installation requirements.
Dual exhaust (one on each side) maximizes airflow in the space
Specifications:
Part Number: 4034160 (formerly 4031960)
Blower: 365 CFM @ 0.0" WG
Power: 875 watts @ 80°F and 60% RH
Supply Voltage: 115 volt - 1 phase - 60 Hz
Current Draw: 7.8 Amps
Operating Temp: 56°F Min., 95°F Max
Minimum Performance at 80°F and 60% RH

Water Removal: 120 Pints/Day
Efficiency: 5.7 Pints/kWh
Energy Factor: 2.7 L/kWh

Air Filter: MERV-8 (standard 65% efficient, ASHRAE dust spot test) 14" X 17.5" X 2" Nominal Size
Power Cord: 8', 110-120V, Ground
Drain Connections: 3/4" NPT
Drain Hose: 5/8" ID X 8' Direct Gravity Drain Hose
Unit Dimensions: 26" W X 21" H X 14-1/2" L
Unit Weight: 90 lbs
**Made in the U.S.A.**
***Note: Our shipping arrangement for the Santa Fe includes palletizing and shipping via an LTL freight carrier. There is a very high risk of damage when the unit is shipped via a small package carrier such as UPS. This shipping offer includes "to the curb" delivery. Freight carrier will call to set up a delivery window and someone must be present to sign for the delivery.
Click here for more shipping details on the Santa Fe dehumidifier.
---
National Trade Supply, LLC is one of the largest Santa Fe Dealers in the United States. We stock the entire Santa Fe family of products and accessories in our own facility providing you with a quicker turnaround time and instant tracking information on your order. We have installed hundreds of units in all types of applications and can offer expert advice on how to properly install yours. We are also an authorized service center for Santa Fe products and can offer warranty service and replacement parts.
If you are looking for the best possible dehumidifier and a company who can stand behind it, Santa Fe and National Trade Supply is the clear choice.
Merchant Services
DehumidifierExperts.com Price:
$1,785.13
Availability: 1 Week To Ship
Standard: 2-7 Business Days: Free!
Shipping fees listed are for a quantity of (1)
Quiet (5)
Effective (4)
Energy efficient (3)
Reviewer Profile:
Homeowner (3)
Comments about Thermastor Santa Fe Force Basement & Whole House Dehumidifier (4034160):
This dehumidifier was installed hanging level from the floor joists about 15 feet diagonally in from one corner of a moist 2400 sq ft crawl space, averaging approximately 4ft high throughout. The drain tube, which required an non-supplied hose clamp, was run to a sealed sump pump. The crawl space was also properly encapsulated using 10 mil plastic sheeting with appropriate taping to seal the seams together and the edges to the walls.
The crawl space is now dry throughout. Understandably, moisture accumulates beneath the plastic, but the encapsulated crawl space is dry.
Prior to this work, there had been no dehumidifier or moisture barrier in the crawl space. Many years of moisture had deteriorated several floor joists and plywood floor sections, which were all replaced along with the dehumidifier and encapsulation installation.
Crawl space moisture control is a must and this dehumidifier plays a valuable part in preserving a property.
I suggest buying extra filters for the dehumidifier, as you will need to change them monthly until your crawl space is dry.
Also, get a hose clamp to securely attach the drain tube.
I understand, from my discussion with Jon (sales person), this dehumidifier will run more and cost more to operate in the beginning, but as the crawl space dries out, expect lower usage and expenses.
I would have given five stars if a couple extra filters were included, along with the necessary hose clamp.
Comments about Thermastor Santa Fe Force Basement & Whole House Dehumidifier (4034160):
The humidity in my crawlspace has been increasing the past few years and this year we had a lot of rain. When I measured the humidity it was 93% and it was clear I had to fix that. My crawlspace is approximately 2300 square feet and I do not have standing water, but the dirt is wet. I started putting plastic down over 100% of the dirt, and re-routed a downspout. When the Santa Fe Force arrived, the humidity was 89% in the crawlspace. The unit is heavy, which really isn't a bad thing; just make sure you have the manpower to handle a 90 pound unit in a crawlspace. The night I installed it, I did not have a condensate pump, so I just drained it into a 20-gallon plastic bin. After 4 hours, I removed 26 pints of water. It took a few days to dry out the crawlspace, but now it is between 46% and 48% humidity. It could be lower, but that is where I have the unit set.

One concern I had was the size of my crawlspace. I was concerned that the unit would not circulate enough air to get the entire space dry. The Force does move enough air to dry-out my entire crawlspace, all my humidity measurements are by the door in the corner, and the unit is in the middle of the space. Another nice thing about the unit is when I go into the space to check on it, I cannot tell it is running, it is so quiet. As I get close to the unit I hear the fan, but that is the only noise I hear from the unit. It is surprisingly quiet.

Once the humidity was stable for a few days, I put a watt-meter on the unit. My unit draws 7.46 AMPS and uses 9.98 Kilo-watt hours per day, over a 5 day period. So I can keep my crawlspace dry, the moldy smell out of my house for $1 per day. I am VERY happy with that. I expect I will run the unit from May until October, so it will not be a big impact on my electric bill.
Compact
Effective
Energy Efficient
Quiet
Comments about Thermastor Santa Fe Force Basement & Whole House Dehumidifier (4034160):
Works great does and quiet
Effective
Energy Efficient
Quiet
Works great
Basement Keeps It Perfect
Drying Hand Laundry
Summer Humidity
Comments about Thermastor Santa Fe Force Basement & Whole House Dehumidifier (4034160):
I have bought 5 of other brands that could not be repaied and now this one works and can be fixed if need be ,, but works great so far .. removes water
Compact
Effective
Energy Efficient
Lightweight
Quiet
Comments about Thermastor Santa Fe Force Basement & Whole House Dehumidifier (4034160):
Excellent unit. Replaces a [@] dehumidifer. Being used in a very large basement to supplement a SanteFe Max Dry. Very small so it's easy to move if necessary. Setup was just plug in power and drain line. Note the poly drain line does not come with a clamp which you probably should use.