Santa Fe Compact70 Dehumidifier (4033600)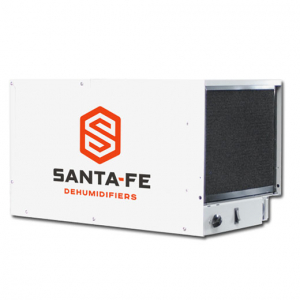 Click to Zoom
PLEASE CLICK HERE FOR IMPORTANT DEHUMIDIFIER DELIVERY INFORMATION!

The Santa Fe COMPACT70 Dehumidifier (Formerly the Compact2) 4033600 - (replaces model #s 4027020, 4029900)

Features:
Low-clearance design
High capacity, energy efficient dehumidification
New design includes configurable exhaust (back or top), R410A refrigerant, improved serviceability and durability
Specifically designed for crawlspaces. At 12" tall and 12" wide, the Santa Fe COMPACT70 can fit where no other dehumidifier can. Innovative features such as integrated vertical or horizontal exhaust outlets offer flexibility even in exceptionally tight spaces, while the optional condensate pump, hang kit, and duct kits facilitate installation in the most challenging applications. No conventional dehumidifier can perform as efficiently and effectively in crawlspaces as the Santa Fe COMPACT70 .
High Efficiency - Exceeds Energy Star® efficiency requirements.
Large Capacity - The high capacity Santa Fe COMPACT70 provides 70 pints per day of water removal at standard rating conditions*. Medium-sized crawlspaces (up to 1600 sq. ft.) are no problem for the Santa Fe COMPACT70.
Low Temperature Operation - Engineered for crawlspaces, and the temperature and air flow issues that they present. When many conventional dehumidifiers have stopped removing water from the air, the Santa Fe COMPACT70 keeps on protecting you and your home.
Superior Air Filtration - MERV-13 filtration is standard on the Santa Fe COMPACT70 . This superior level of air filtration also keeps the Santa Fe COMPACT70 working at peak efficiency for longer than other devices with cheaper designs.
Auto Restart - Santa Fe dehumidifiers will automatically restart at the original setting after a power outage.
Optional Equipment - The engineers at Therma-Stor designed remote ducting kits, hang kits, caster kits and condensate pumps for use with the Santa Fe COMPACT70 . These optional kits provide the ultimate in flexibility for your specific installation requirements.

Specifications:
Blower: 150 CFM @ 0.0" WG
Power: 580 Watts @ 80°F and 60% RH
Supply Voltage: 115 volt - 1 phase - 60 Hz
Current Draw: 5.0 Amps
Operating Temp: 49°F Min / 95°F Max
Sized For: Approx 1,600 Sq. Ft. Typical
Minimum Performance @ 80°F and 60% RH - 70 Pints/Day - 5.0 Pints/kWh - Energy Factor 2.4 l/KWh
Air Filter: MERV 13 - Standard 65% Efficient, ASHRAE Dust Spot Test - Size 9" X 11" X 1"
Power Cord: 9', 110-120 VAC, Ground
Drain Connection: 3/4" Threaded NPT
Drain Hose: 5/8" ID X 7/8" OD X 8' Long
Warranty: 2 Full + 3 Year Limited
Dimensions: 21" X 12" X 12"
Weight: 55 lbs
Shipping Dimensions: 25" X 17" X 15"
Shipping Weight: 65 lbs
**Made in the U.S.A.**
***Note: Our shipping arrangement for the Santa Fe includes palletizing and shipping via an LTL freight carrier. There is a very high risk of damage when the unit is shipped via a small package carrier such as UPS. This shipping offer includes "to the curb" delivery. Freight carrier will call to set up a delivery window and someone must be present to sign for the delivery.
Click here for more shipping details on the Santa Fe dehumidifier.
---
National Trade Supply, LLC is one of the largest Santa Fe Dealers in the United States. We stock the entire Santa Fe family of products and accessories in our own facility providing you with a quicker turnaround time and instant tracking information on your order. We have installed hundreds of units in all types of applications and can offer expert advice on how to properly install yours. We are also an authorized service center for Santa Fe products and can offer warranty service and replacement parts.
If you are looking for the best possible dehumidifier and a company who can stand behind it, Santa Fe and National Trade Supply is the clear choice.
Merchant Services
DehumidifierExperts.com Price:
$1,152.57
Availability: 1-2 Weeks To Ship
Standard: 2-7 Business Days: Free!
Shipping fees listed are for a quantity of (1)