Dri-Eaz CMC100 Compact Dehumidifier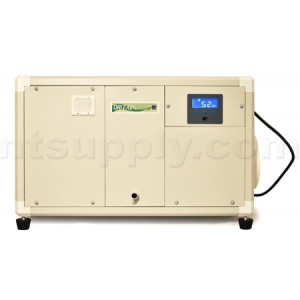 Click to Zoom

Questions? Call Toll Free (866) 764-9900

| | |
| --- | --- |
| | Free Indoor Digital Hygrothermometer included with each Dri-Eaz Dehumidifier |
The new CMC100 (AKA F391-A) is a compact, professional-grade dehumidifier specially designed for confined spaces, high performance, and easy installation. The versatile CMC100 is ideal for controlling moisture in humid basements, crawlspaces, commercial facilities, sensitive technology areas, or medical settings. With built-in humidistat and easy digital controls, the CMC100 keeps operation simple.
Compact Dimensions - the shortest verticle clearance on the market in applications where condensate pump-out is required. Just 10" wide and 14" tall (including built in condensate pump which offers 30" of lift).

Convenient Installation - Fits easily between floor joists, in low clearance areas or on a basement bookshelf
Unmatched flexibility - Unique interchangeable panel design allows for multiple airflow configurations:
Straight path tunnel design
U-Shaped - air intake/outlet on one side
L-Shaped - combination of tunnel and U-shaped
6" Collar for duct connection on exhaust side
Built-In pump - no external pump needed. Unit automatically pumps condensate to suitable receptacle or drain - can even pump uphill (30 inches vertical lift potential - do not place the end of the drain hose higher than 3 feet (1 meter) above the top of the CMC, or leaking may occur.)

EnergyStar qualified - high performance - 70 pints a day water removal while drawing just 6 amps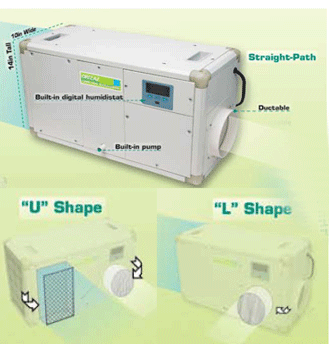 The CMC100 is controlled by an electronic touchpad humidistat. The unit will automatically start when the humidity of the surrounding air exceeds the humidity level selected. The humidistat displays the current humidity as a percentage of relative humidity. Press the up or down buttons to adjust the humidity setpoint. The value of the humidity setpoint increases or decreases in 5 percent increments.

The CMC100 also has a defrost mode and low temperature protection mode. The unit automatically initates these modes as conditions warrant. As needed, the CMC100 will automatically enter the defrost mode - the fan will continue to operate until ready for the next operating cycle. When the ambient teperature falls below 32 degress, the unit enters low temperature protection mode and stops operating. Note - unit retains humidity setpoint even after power outage.

1 Year Warranty on Parts and Labor

Parts included:
Four screw-in leveling feet
One 15-foot drain hose (5/8" ID)
One hose clamp for attaching drain hose

Specifications:
Name: CMC100 Dehumidifier - Model F391-A
Dimensions (W x H x D) - 10" X 14" X 24"
Weight - 55 lbs
Fan - 250 CFM
Water Removal - 70 pints / day at AHAM
Power - 6.2 Amps (115V)
Water Removal Efficiency - 4.6 pts/kWh
Energy Factor - 2.1L/kWh
Operating Temperature Range - 33-100 degrees F
Safety - ETL certified to UL 474
Power Cord Length - 8 feet

---
***Note: Our shipping arrangement for the Santa Fe includes palletizing and shipping via an LTL freight carrier. There is a very high risk of damage when the unit is shipped via a small package carrier such as UPS. This shipping offer includes "to the curb" delivery. Freight carrier will call to set up a delivery window and someone must be present to sign for the delivery.
Click here for more shipping details on the Dri-Eaz dehumidifier.

National Trade Supply, LLC is an authorized Dri-Eaz distributor. We stock the Dri-Eaz products and accessories in our own facility providing you with a quicker turnaround time and instant tracking information on your order. We have installed Dri-Eaz units in a variety of applications and can offer expert advice on how to properly install yours. We are also an authorized service center for Dri-Eaz products and can offer warranty service and replacement parts.
Whenever there is a need for fast, dependable, energy-efficient drying, Dri-Eaz and National Trade Supply can provide the solution.
Effective (30)
Compact (29)
Quiet (23)
Lightweight (16)
Energy efficient (9)
Dank basement (20)
Summer humidity (12)
Crawl space (7)
Reviewer Profile:
Homeowner (31), Avid do-it-yourselfer (4), Professional (4)

Primary use:
Personal (31), Business (4)
Comments about Dri-Eaz Products Dri-Eaz CMC100 Compact Dehumidifier:
This is our second purchase from this site. Excellent sales and service.
Dank Basement
Summer Humidity
Comments about Dri-Eaz Products Dri-Eaz CMC100 Compact Dehumidifier:
We bought two units: one for our basement at home and one for the basement in a rental unit. Both are operating perfectly. The humidistat is very accurate by comparing the humidity level in the unit to a separate humidity instrument placed in another part of the basement. When comparing the two readings, they are identical. Much quieter than a $300.00-$400.00 unit which these replaced. Installation is quite simple. You do need some form of sump/bucket, etc. to run the discharge hose to. The sump's location will determine the location of the unit. All-in-all an excellent device.
Comments about Dri-Eaz Products Dri-Eaz CMC100 Compact Dehumidifier:
The Dri Eaz CMC100 was installed professionally when I had our crawl space sealed in January 2011. It worked as required until sometime last month. When I checked under the house the unit had shut down completely. I have removed it and am now looking for a repair center to have it evaluated. This is too costly a machine to fail within two years and the factory was of little help in offering any suggestions other than to find a repair shop. If this is the best they can build products I would suggest purchasing from a different manufacturer
Dank Basement
Summer Humidity
Comments about Dri-Eaz Products Dri-Eaz CMC100 Compact Dehumidifier:
Seems to do just what I expected it to do, removes moisture from the air. Also, completes job fairly quickly. We will see how it does during the winter, with a colder basement, when that time comes.
Compact
easy to set up
Effective
Quiet
Comments about Dri-Eaz Products Dri-Eaz CMC100 Compact Dehumidifier:
I had already had my basement encapsulated with the Crawl space encapusulation system, and it definitely decreased the humidity, but my basement was still musty smelling. I also have a little studio next to the basement sub terrain, and it smelled musty too. I was so surprised at how easy it was to set up, and now after 3 weeks, my basement OR studio does not smell musty at all. I am 100% satisfied.
Comments about Dri-Eaz Products Dri-Eaz CMC100 Compact Dehumidifier:
So far great, it's been running for about 3 weeks now and now issues quiet and effective love the built in condesate pump no extra things to buy.
Compact
Effective
Energy Efficient
Lightweight
No problems at 3 weeks
Quiet
Dank Basement
Summer Humidity
Comments about Dri-Eaz Products Dri-Eaz CMC100 Compact Dehumidifier:
Took my humidity level from 61% to 45% in two days and changed the musty smell. I haven't got the first electric bill with it on yet but it does'nt run much now because of the low humidity .
Dank Basement
Summer Humidity
Comments about Dri-Eaz Products Dri-Eaz CMC100 Compact Dehumidifier:
In the summertime when its hot and humid this product worked well for me. My placement is in a modifed space (9ft to floor) under conventional foundation with partial slab - partial plastic/rock over dirt that is workshop & storage area. Running the unit eliminated the musty smell and keeps area in "safe humidity". When temp outside is much lower (winter) then the unit doesnt work as well, the drawback of a cooling- type dehumidifier. I'm experimenting with adding a little heater to warm it up a little to get better efficiency. I'm satisfied so far, had it little less than a year. Was good purchase for me.
Comments about Dri-Eaz Products Dri-Eaz CMC100 Compact Dehumidifier:
I live in the humid southeast. I have two crawls ( total 1800 sq ft @ 18-26" high) connected by a cellar. Humidity was running 70-80%. I have encapsulated one crawl and the other crawl encapsulation job is 40% complete (all vents sealed and some liner in place). I had some concerns about my square footage, but the dri-eaz is easily keeping humidity at 45% at 78 degrees. I will finish the encapsulation but with this unit it apparently isn't necessary.

Unit sits nicely on a shelf in the cellar, with duct running to each crawl. No added expense for a duct collar, and the included condensate pump eliminates the need to penetrate the foundation-it can pump into existing plumbing.
Built in pump
Compact
Easy to use
Effective
Lightweight
A little loud
Hose Drips A Little
No Wheels
Basement
Dank Basement
Summer Humidity
Comments about Dri-Eaz Products Dri-Eaz CMC100 Compact Dehumidifier:
Using the CMC100 for a slightly-humid 1000sqft finished basement in my home after a much cheaper consumer model dehumidifier died after 18 months (as they all do). It has had zero problems keeping my basement at 45% humidity.

I didn't have a drain nearby, so I got a semi-transparent 5 gallon bucket, a lid, some stainless steel nuts/bolts, and a few plastic hose clamps (about $15 at a local hardware store). I bolted the clamps to the bucket lid, drilled a hole in the lid for the hose, and slipped in through. The bucket sits a couple feet away from the dehumidifier in a convenient spot. The (relatively weak) pump in the CMC is perfect for getting the water this short distance up and into the bucket. I just go empty the bucket once a day. Perfect. (I also got a second bucket so I can just move the lid from one to the other without needing to shut off the dehumidifier, but that's just for convenience.)

Filter will be easy to clean and/or replace as needed (4 screws, but relatively easy access and the filter material is readily available - do not have to buy a custom filter for it unless you want to).

There are only 3 minor cons to the CMC100 that I can see:

1) It's a little loud. Not too far off from the the consumer one I had, and not bad/unreasonable for a dehumidifier in a basement (and certainly not for a crawlspace), but too loud for a living room or bedroom while you're in there (turning it on/off is easy by the way - in case you want to shut it off while you're in the room).

2) The hose attachment is a bit iffy, and it drips a tiny bit (it just slides on and gets clamped down with a zip tie). I might be able to use some kind of sealant on it to stop the drip, but it's not a big enough problem to bother with, yet. I had no problem with the hose itself, but I cut it much shorter than many people - just enough to get into my bucket with a little slack.

3) There are no wheels to move it around (it's not designed for this, of course). I'll build a simple platform with casters if this becomes a problem. 99% of the time, it's just going to sit there and do its thing, so not a big deal. It's also only 50 pounds or so and has some recessed handles on the top, so it's not difficult to move.

Otherwise - great product so far. Works fast and well. Basement is nice and dry (confirmed by the included free external humidity gauge I put in another room). I'm pleased.

Assuming this thing lasts a while (5+ years), this is definitely the way to go over those cheap consumer models that ALL seem to break after 18 months. It's about the same size, is much more efficient/effective, and is not nearly as wasteful (i.e., not filling up a landfill somewhere).

I've only been using it a week, but at this point I have zero regrets given all the choices that are available (and I did a -bunch- of research before settling on the CMC100). Highly recommended.