4-Function Deluxe 20 Amp Switch Combo for Heater/Fan/Light/Nightlight, White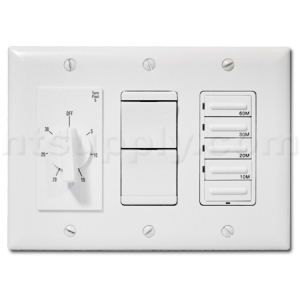 Click to Zoom
4-Function Deluxe 20 Amp Switch Combo for Heater/Fan/Light/Nightlight, White

Includes 1 30-Minute mechanical crank timer - this switch should be used for heater function
Includes 1 PS811-20W two function switch for light and nightlight - These switches should not be used on heater
Includes 1 Electronic Push-Button timer with multiple timing intervals . This switch should be used on the fan only
Includes 1 Triple Gang Decorator WallPlate

Suitable for operation of Panasonic FV-11VHL2 and Broan/NuTone QTX110HL

Manufacturers are recommending a dedicated, 20 Amp circuit for the fans with heaters. These switches are rated for 20 Amp service and allows separate switching of heater, fan, light, nightlight. Only crank timer should be used to control heater function.