Santa Fe Compact 2 Dehumidifier (4033600)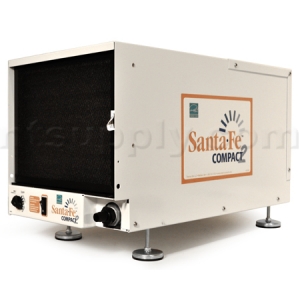 Click to Zoom
PLEASE CLICK HERE FOR IMPORTANT DEHUMIDIFIER DELIVERY INFORMATION!

The Santa Fe Compact 2 Dehumidifier 4033600 - (replaces model #s 4027020, 4029900)

Features:
Low-clearance design
High capacity, energy efficient dehumidification
New design includes configurable exhaust (back or top), R410A refrigerant, improved serviceability and durability
Specifically designed for crawlspaces. At 12" tall and 12" wide, the Santa Fe Compact can fit where no other dehumidifier can. Innovative features such as integrated vertical or horizontal exhaust outlets offer flexibility even in exceptionally tight spaces, while the optional condensate pump, hang kit, and duct kits facilitate installation in the most challenging applications. No conventional dehumidifier can perform as efficiently and effectively in crawlspaces as the Santa Fe Compact.
High Efficiency - Exceeds Energy Star® efficiency requirements.
Large Capacity - The high capacity Santa Fe Compact provides 70 pints per day of water removal at standard rating conditions*. Medium-sized crawlspaces (up to 1600 sq. ft.) are no problem for the Santa Fe Compact.
Low Temperature Operation - Engineered for crawlspaces, and the temperature and air flow issues that they present. When many conventional dehumidifiers have stopped removing water from the air, the Santa Fe Compact keeps on protecting you and your home.
Superior Air Filtration - MERV-8 filtration is standard on the Santa Fe Compact. This superior level of air filtration also keeps the Santa Fe Compact working at peak efficiency for longer than other devices with cheaper designs.
Auto Restart - Santa Fe dehumidifiers will automatically restart at the original setting after a power outage.
Optional Equipment - The engineers at Therma-Stor designed remote ducting kits, hang kits, caster kits and condensate pumps for use with the Santa Fe Compact. These optional kits provide the ultimate in flexibility for your specific installation requirements.

Specifications:
Blower: 150 CFM @ 0.0" WG
Power: 580 Watts @ 80°F and 60% RH
Supply Voltage: 115 volt - 1 phase - 60 Hz
Current Draw: 5.0 Amps
Operating Temp: 49°F Min / 95°F Max
Sized For: Approx 1,600 Sq. Ft. Typical
Minimum Performance @ 80°F and 60% RH - 70 Pints/Day - 5.0 Pints/kWh - Energy Factor 2.4 l/KWh
Air Filter: MERV 8 - Standard 65% Efficient, ASHRAE Dust Spot Test - Size 9" X 11" X 1"
Power Cord: 9', 110-120 VAC, Ground
Drain Connection: 3/4" Threaded NPT
Drain Hose: 5/8" ID X 7/8" OD X 8' Long
Warranty: 2 Full + 3 Year Limited
Dimensions: 21" X 12" X 12"
Weight: 55 lbs
Shipping Dimensions: 25" X 17" X 15"
Shipping Weight: 65 lbs
**Made in the U.S.A.**
***Note: Our shipping arrangement for the Santa Fe includes palletizing and shipping via an LTL freight carrier. There is a very high risk of damage when the unit is shipped via a small package carrier such as UPS. This shipping offer includes "to the curb" delivery. Freight carrier will call to set up a delivery window and someone must be present to sign for the delivery.
Click here for more shipping details on the Santa Fe dehumidifier.
---
National Trade Supply, LLC is one of the largest Santa Fe Dealers in the United States. We stock the entire Santa Fe family of products and accessories in our own facility providing you with a quicker turnaround time and instant tracking information on your order. We have installed hundreds of units in all types of applications and can offer expert advice on how to properly install yours. We are also an authorized service center for Santa Fe products and can offer warranty service and replacement parts.
If you are looking for the best possible dehumidifier and a company who can stand behind it, Santa Fe and National Trade Supply is the clear choice.
Merchant Services
DehumidifierExperts.com Price:
$1,150.43
Availability: In Stock
Standard: 2-7 Business Days: Free!
Shipping fees listed are for a quantity of (1)
Compact (18)
Effective (18)
Lightweight (11)
Energy efficient (8)
Quiet (8)
Dank basement (14)
Summer humidity (11)
Reviewer Profile:
Homeowner (18), Avid do-it-yourselfer (3)

Primary use:
Personal (18)
Compact
Complete Package
Effective
Lightweight
Comments about Thermastor Santa Fe Compact 2 Dehumidifier (4033600):
Thee compactness of the dehumidifier and that it can be suspended by the ceiling are the primary things I like about this product. Hanging kits came ready with the all the hardware for this installation on a typical wood contraction home and the instructions for installation were spot on. I bid the job based on the installation instructions and it took me exactly 3 hours to install the unit, run the drain line from the condensation pump, add an outlet and dress the wires and hoses to be neat and out of the way. The condensation pump is well situated and integrate perfectly with the unit. This is nicely designed for the hanging installation. I would highly recommend using this product on applications that fit its intended use.

The only negative points are that I install this unit on a cement ceiling and needed to run out and purchase additional hardware to mount it. Fortunately the hardware store was just down the street. I would suggest the instructions include an alternate installation method with recommended hardware, either included with the unit or suggested for purchase prior to installation, for a flat ceiling mounting. Also I recommend the manufacturer add a power connection in the unit for the condensation pump. This would enable the unit to only use one outlet plug and eliminates second power cord being dressed to the outlet.
Compact
Energy Efficient
Quiet
Comments about Thermastor Santa Fe Compact 2 Dehumidifier (4033600):
I live in Southeastern North carolina where humidity is a issue most of the year. My garage is my workshop and I needed to control the moisture to prevent rust on my tools. I purchased the Santa Fe Compact and suspended it from the ceiling using the hang kit that is sold separately. A very successful undertaking as the unit keeps it at 48% humidity. When the door is opened to allow a vehicle in or out, it seems to take very little time to return the humidity level to the setting. Very pleased.
Compact
Effective
Energy Efficient
Lightweight
Quiet
Comments about Thermastor Santa Fe Compact 2 Dehumidifier (4033600):
I installed this unit 4 years ago in my house in Wilmington, North Carolina. It runs most of the year without any more help than a filter change. My crawlspace is large 3400 sq. ft. Humidity level is a constant 48%. We sit on sand and moisture wicks under the foundation after heavy rains (4" plus). It takes less than 24 hours to bring any moisture from the storm back under control.
I am ready to order a second one for my garage so that I can work comfortably during the summer months. Highly Recommend this unit.
Dank Basement
Summer Humidity
Comments about Thermastor Santa Fe Compact 2 Dehumidifier (4033600):
After having big box store dehumidifiers fail every year or LESS, I finally bought an American Made product. After 3 weeks, there are no complaints. Time will tell. I especially like the simple rotary dial for setting the humidity. Some of electronic displays were not reliable on cheaper brands.

We have ours sitting on shelf with the drain hose running to a 5 gallon bucket in the utility sink. That acts as our drain trap because the hose is below the water. Plus, we use the distilled water for house plants. We killed a few plants when we got our water softener, because there was just enough salt in the water to affect them.
Compact
Effective
Energy Efficient
Lightweight
Comments about Thermastor Santa Fe Compact 2 Dehumidifier (4033600):
Has reduced humidity by 20% in just two days! Musty odor is disappearing and I'm breathing much better.
Effective
Energy Efficient
Comments about Thermastor Santa Fe Compact 2 Dehumidifier (4033600):
Big country basement - a must. Dept store de-hums will not do - and will freeze up, lasting 2 years max.
Comments about Thermastor Santa Fe Compact 2 Dehumidifier (4033600):
Unit was delivered with no problems, set up was a breeze. Let it run for 3 days and notice it was cycling on and off to often. Called Therma-Store, talked to a tech, Mike, and he agreed that something was wrong with the unit. He told me that he would send out a new unit and let the old unit run until I received the new one. Got the new one in about 5 days and sent the old one back with free shipping label from Therma-Stor. Not happy that the first unit didn't work right, but very happy on the service I got from Therma-Stor on backing there product. New one doing its job and my basement has dried up. Kudos to Therma-Stor.
Compact
Effective
Energy Efficient
Quiet
Comments about Thermastor Santa Fe Compact 2 Dehumidifier (4033600):
This is the second Santa Fe dehumidifier I have bought. They are simply the best on the market. They work without running all the time and are relatively quiet. I bought a Classic before I sold my bigger house with a full basement and bought the compact this time because it's a little more than a crawl space. Both were well made first class designs. I went back to iaqsource.com for the second purchase because they have the best price and are great to work with. I wish everything was this easy and left me this satisfied.
Compact
Effective
Energy Efficient
Lightweight
Quiet
Leaks
Small Leak At Water Outle
Dank Basement
Filtering Air
Improving Air Quality
Summer Humidity
Comments about Thermastor Santa Fe Compact 2 Dehumidifier (4033600):
I love it! I also purchased the hang kit. I have it installed up out of the way and have it draining into an injector pump. Once up I turned it on and its been running ever since.

ONE PROBLEM... Theres a samll leak where the water drains out of the unit. I was hoping it wound stop on its own... It has yet to stop. Im not sure its worth the effort of returning it yet but will be contacting the manufacturer.
Compact
Effective
Energy Efficient
Lightweight
Quiet
Dank Basement
Summer Humidity
Comments about Thermastor Santa Fe Compact 2 Dehumidifier (4033600):
This is a great workhorse of a dehumidifier. I had decided to buy this brand after reading many online dehumidifier reviews, and this particular unit was recommended to me by Thermastor's customer service based on the size of my home. The only thing I did before plugging it in was to get an outlet installed for it on a separate breaker. Within minutes, my wet, moldy basement was starting to try out. Since then, with the unit running on medium/automatic, it's been between 46 and 50% humidity down there -- drier than anywhere else in the house.

The jury is still out on the condensate pump, which I purchased along with the dehumidifier to allow it to drain into the laundry sink. I'm on my third pump now in about 6 weeks. The first pump leaked copiously from the case. The second pump, which I was sent as a warranty replacement, was not configured correctly to be used with my dehumidifier. The third one (another warranty replacement) seems to be working after some jury-rigging.

One major issue with the pump is the hanging bracket provided with the pump. This bracket attaches to the front of the dehumidifier and allows the pump to be suspended below the dehumidifier. I've tried to think of a polite word for the bracket, but basically it needs an urgent re-design. It hangs at an angle, which encourages the pump to leak (and also, seemingly, to run a lot more than necessary). It took me a long time to figure this out. When I did, I leveled the bracket by bracing it with a brick and several wood wedges. As long as the pump is perfectly level, it doesn't leak and works as intended.

I'm hoping to get a drainage system and sump pump put into my basement this summer, and if I do, I am going to ask the plumber to install an inlet to allow the dehumidifier to drain directly, which will mean that I won't have to hassle with the pump bracket anymore.

Conclusion: I highly recommend this dehumidifier, but suggest direct drainage if possible as the condensate pump has some issues.